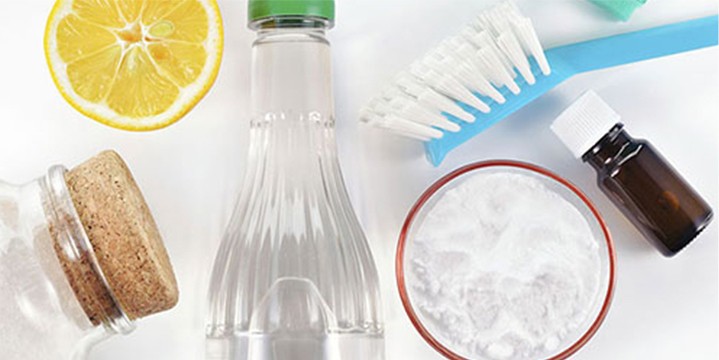 August 18, 2018
Natural Cleaning Recipes: Tricks and Tips for Sprucing Your Home without Supplies
There are tons of cleaning supplies for every nook and cranny of your home, and if you decide to buy all of them, they'll fit neither your cupboard nor budget. How come our grand grandmothers managed to keep their houses shining without all those cutting-edge cleaning stuff? Today, many of us get back to homemade cleaning products for the reasons of economy, but even more so for the reasons of keeping our houses chemicals-free. The manufacturers keep it a secret that you can use simple vinegar instead of Windex and other cleaners, newspaper instead of Bounty paper towels, old socks instead of disposable rugs to dust furniture, and baby oil to make wood shine… In this article, we will teach you how to make your own cleaning products out of simple things you have in your cupboard. We have prepared a lot more natural cleaning recipes to help you cut costs and keep your home clean, green and eco-friendly.
Homemade cleaning products: tips and tricks for cleaning without supplies
Baking soda as an all-purpose cleaner
This natural agent really deserves our praise as it easily combats almost any kind of dirt. Mix four tablespoons soda with one quart warm water and apply to a sponge to make your kitchen counters, refrigerator, and appliances shine and smell like new.
Homemade vinegar spray
White vinegar is a non-toxic, powerful and cheap super tool that is able to rival most commercial cleaning supplies. Mix white vinegar and water in 1:1 ratio in a spray bottle and leave to infuse for 7+ days. You can make your own cleaning products of different scents using your favorite herbs or citrus fruits. Use a vinegar spray for brightening windows (with a microfiber cloth only to avoid streaking) and cleaning carpets, kitchen counters and other surfaces (apart from marble and hardwood as the acid can damage them).
Toothpaste as a stain-remover
Toothpaste perfectly banishes stains from wood, chrome and… your favorite sneakers. It erases marker stains after your kids' creative fun, makes your bathroom chrome fixtures shine again and even returns your sneakers their "just out of the box" look. Just try it once, and you won't be able to stop. Toothpaste will definitely become one of your favorite homemade cleaning products.
Lemon as a stink remover
If your garbage disposal stinks, "feed" a few lemon rinds to it and rinse with water to return it a fresh smell. Got a stinky and stained cutting board? Rub it with baking soda or salt first and follow with a lemon slice.
Unclog a drain with the baking soda and vinegar combo
Just pour 1/2 cup baking soda to the drain and add ½ cup vinegar. Leave it for like 5 minutes and rinse with hot water. This can be an alternative to a toxic drain cleaning supplies if the issue isn't serious.
Table salt to give your kitchen a good scrub-down
If you've got a butcherblock countertop, you know that nasty kind of stains that firmly eat into the wood. Thanks to its coarse texture, table salt easily removes stains with a little rub. Salt also helps maintain cast-iron skillets perfectly clean.
Clean away mold with vodka
Your party leftovers can do a good job in your bathroom. Just fill a spray bottle with some booze and spray over the surface. Left for 15 minutes, and then scrub gunk away with an old toothbrush. Vodka will also return your porcelain its initial gloss.
Lemon to remove grime and stink from a microwave oven
Run a microwave with a cup of chopped lemon with water until the window gets steamy. Let for 15 minutes, open and easily wipe away grime.
Wipe mirrors with coffee filters
Since coffee filters don't contain lint, they perfectly wipe down mirror surfaces without leaving streaks.
Ketchup for cleaning brass
If you have brass fixtures or items in your home, you must have noticed how fast they become dull. Return them their rose gold shine with some ketchup and a sponge.
We hope you liked our collection of homemade cleaning products! Do you have favorite natural cleaning recipes? Please, share them with us in comments!