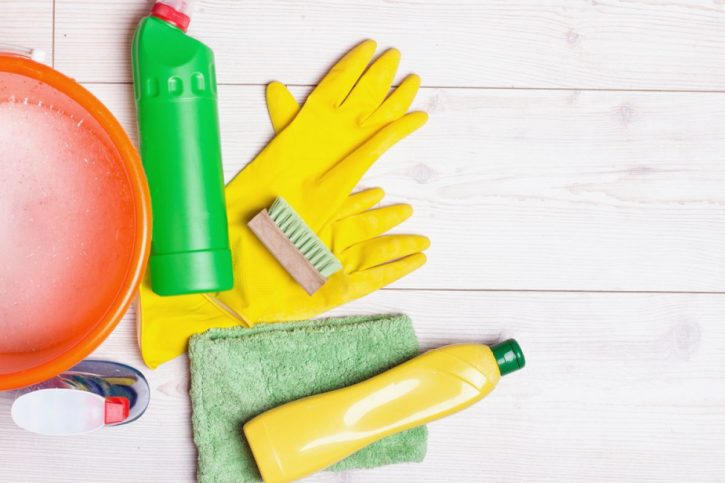 November 10, 2018
What's in Your Cleaning Kit? These Home Cleaning Supplies are Must-haves!
Do you have an ultimate home cleaning kit? We mean a smart and practical container packed with your favorite and proven cleaning supplies. Having everything organized in one neat place is a great way to save time and space in your house as well as to always be equipped for your cleaning endeavors. Whatever the occasion, you always have all necessary home cleaning supplies on hand for a quick cleanup. If you still don't have a cleaning kit (or you think its missing something), we are ready to share some ideas on what to put there. Only the best cleaning supplies and proven items that are safe, efficient, and affordable!
Read our cleaning kit checklist to make sure your's is up for any dirty task!
Essential cleaning supplies to put in your kit
Multi

purpose cleaner

– number-one in

your cleaning kit!

If you could only have one item in your kit, what would it be? Of course, the one that can tackle any

kind of dirt and on any kind of surface.

All-purpose cleaner i

s indispensable for keeping walls, floor

s

,

and

countertops in

both

kitchen and bathroom clean.

If you still don't have a favorite,

add

Pledge

Antibacterial Multi-Surface Cleaner

to your

home

cleaning kit

or

do it yourself

out of

natural ingredients

.

Heavy-duty dirt remover
Maybe you don't need it every day, but having a thing that can literally erase any kind of dirt from everywhere sounds

fantastic. That is why we recommend

equipping your kit for home cleaning with

a

sort of magic among cleaning supplies

– Mr. Clean Magic Eraser

.

Mirror/glass cleaner
Wiping down dirt and marks from mirrors and windows without smears in just seconds – this is what all housewives want from a good glass cleaner. You can either prepare

your

own

all-natural

vinegar-based spray for windows or use classics that never fail

– Windex Original Glass Cleaner

.

Disinfectant (liquid, spray or wipes)
Keeping some

bacteria and germ

packed areas in your home as sterile as possible is key to preventing diseases in your family

,

especially in the

season of colds and flu

.

For this reason,

one of those antibacterial cleaning supplies

(think about

Clorox Clean-Up With Bleach

in

a

spray bottle)

must be in your cleaning kit.

We also recommend having disinfectant in wipes version

(

Lysol Dual-Action Disinfecting Wipes

)

,

which are very handy in the toilet area

– grab, wipe, and toss

.

Bleach
Another heavy-duty item in

your kit for cleaning to strategically combat grout and mold that often occurs between tiles in the bathroom. It's probably the cheapest

product among home cleaning supplies for

keep

ing

your home mold-free and healthy.

Furniture polish.A lot of modern-day cleaning kits don't include furniture polish, but we definetely recommend to take one. Furniture polishes smell lovely, and they really helpful for polishing the wooden furniture, unlike many other products. They'll remove dust and stains, while adding a shine to even the oldest pieces of wooden furniture.
Tools and items to add to your
home cleaning kit
Rubber gloves. Some cleaning supplies can be aggressive and cause severe skin damage, so be smart and put them into your cleaning kit.

Microfiber cloths.

Synthetic

material of these household rags helps

trap dirt and even germs cleaning everything without leaving streaks and lint.

Don't forget to wash them separately from time to time without using fabric softener.

Toothbrush. It will reach whe

re

other brushes fail to fit. Do not toss old used toothbrushes,

but

put them into your home kit instead.

Sponges

with

an

abrasive side

. In your cleaning kit, keep kitchen sponges separately from the bathroom ones

to prevent

cross

–

contamination

.

Vinegar and baking soda. Check out our

natural cleaning recipes

for amazing, absolutely eco-friendly results. Natural ingredients

that can be used for home cleaning are many, but vinegar and soda are just must-haves in your home kit for cleaning.

Squeegee. Optional, but we can't imagine cleaning a shower tray, tiles, and screen without his

product

.

It's

the fastest way to remove water

marks and residue.
How about you? What are the favorites you put in your cleaning kit? Please, share about your go-to home cleaning supplies in comments.