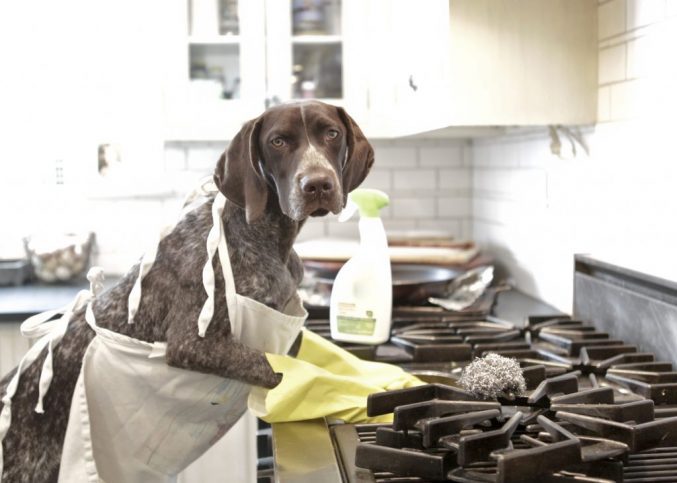 November 27, 2018
Golden Rules to Make Cleaning a House with Pets Super Easy
Having a pet is one of the biggest pleasures in our lives. However, most pet owners have faced the challenge: how to keep your house clean with pets? Furry buddies, especially cats and dogs, are quite messy creatures with all that hair, paw prints, and litter… If you've been previously persuaded that you can have either a pet or a clean home, don't believe it. Our tips for cleaning a house with pets will help you have both pleasures and easily… Just follow these golden rules to pet–proof your home and enjoy cuddling with your pet in a perfectly clean interior.
Cleaning a house with pets – ultimate rules
Don'

t let the dirt in
Lots of dirt can be tracked in with

your

dog's paws after a walk. Always keep

a container with water and a ra

g near the door and train your pet to wait until you wipe down their paws. This simple ritual will

make

cleaning a house with pets easier and

save you of hours of

brushing

floors and sofas. Mats can also

help trap mud, so place them both before and behind the door.

Perfect your hair management skills
Animal hair is the most annoying issue pet owners have to face.

How to keep your house clean with pets shedding their fur and hair everywhere?

To prevent the animal

hair from taking over your house, first of all, groom your cat or dog regularly. Next, cover the place where your pet loves to rest with sheets or old towels and shake them outside regularly before washing.Use a small handheld vacuum or a lint roller to quickly collect all the hairs and fur from sofas and carpets.

Actually

, these two items are must-

haves for

cleaning a house with pets. The benefit of a small handheld vacuum is that you can remove pet hair on the go immediately as you see it without having to drag a large and heavy vacuum all the time

.If you

r dog or cat doesn't

belong to

a breed that sheds little to no hair, w

e recommend developing your own cleaning and grooming schedule and strictly following it. This

will prevent from getting your house buried in hair and make it always ready to meet an unexpected guest.

Cleaning a house with pets becomes easier and less frustrating if you get the hair issue managed.

Take care of your carpets
Always get rid of animal stains immediately as you notice them because pet urine left on the carpet can

permanently

damage it, not to mention the awful smell.

H

ow to get dog pee out of carpet

?

Remove litter before working on a stain. Then absorb moisture with a clean white cloth and apply a cleaning product (

a pet carpet cleaner or a

dishwashing liquid mixed with water). Rinse with a clean wet cloth and dry with a dry one. If your carpet still doesn't smell fresh, deodorize it with a simple household product – white vinegar. Pour it into a spray bottle and apply evenly on the carpet. You'll be amazed

at

how quickly the smell will disappear.

Also, t

ry our

natural cleaning recipes

to make

cleaning a house with pets even more pet-friendly.

Keep pet beds fresh
Using removable pet bed covers and washing them on a hot cycle is a key to keeping the odor under control. Also, simple baking soda can bring pet bed hygiene to the next level thanks to its perfect anti-bacterial and deodorizing properties. Just add a cup of it to the washing machine or just sprinkle it over the bed and

dust it off later for quick refreshment without washing.

Clean the litter box every day
Although most

cat owners

believe they should manage the litter box when it starts to stink, the real cleanness of your house requires a more diligent approach. To prevent a toxic smell from spreading all over your home, empty your cat's litter box every

day (ideally twice a day). Additionally, give the litter box a thorough wash every week using bleach or other anti-bacterial cleaning product (please, check our cleaning kit checklist

here).

Making this an automated cleaning habit will minimize the time you

spend c

leaning a house with pets

.
Cleaning a house with pets is too hard?
Consider deep house cleaning services
How to keep your house clean with pets and not die? If you feel that mess your pets turn your house into is bigger than you can handle yourself or that your cleaning efforts are not enough to deal with harmful bacteria, rely on our professional deep house cleaning services in Manhattan. A thorough cleaning will help disinfect your home and make it shine like new again, making cleaning a house with pets easier.
About the author: Khrystyna is a cleaning professional with years of experience. She is a founder of White Glove Cleaner agency and her dream is to make New York a cozier place.