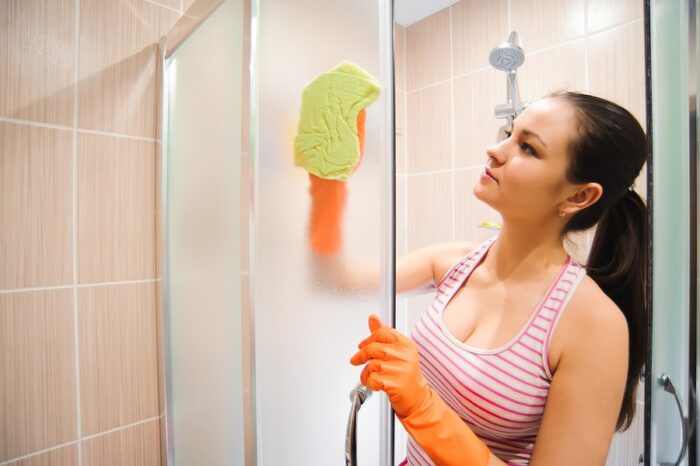 December 13, 2020
Cleaning Glass Shower Doors With Vinegar & Dawn +5 Effective DIY Mixtures
The glass shower has become a worthy alternative to the more common bath, and more and more people are preferring this type of shower nowadays. Therefore, the question of how to clean the glass shower is popular and noteworthy.
Cleaning Glass Shower Doors Basic Rules
If you follow the recommendations, you can extend the life of the product and maintain its aesthetically pleasing appearance for a long period:
The cab should be cleaned after each use – if this is not done, then over time the glass will be covered with a layer of soapy deposits and stubborn deposits.
It is advisable to wash the glasses with hot water, then rinse them coldly, be sure to wipe the surfaces dry using a natural cloth.
With regular maintenance, general cleaning of the shower should be done once every 4-6 weeks.
For a post-construction cleaning, you could also use antiseptic
It is not recommended to use hard brushes and sponges, which can scratch the glass.
It is best to use a microfiber cloth for cleaning.
To remove plaque and other contaminants, you should purchase special products suitable for caring for the surfaces of the cab.
Chemicals
Chemical industries offer a lot of products, but experienced housewives are especially fond of the following:
Melamine sponge – wet it and lightly rub the desired area to remove lime deposits, grease, soap streaks; it's not important to use additional substances, and this sponge does not leave any streaks.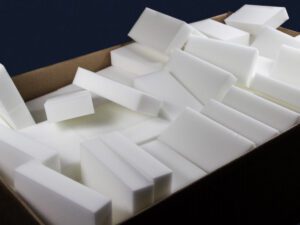 "Mr. Muscle" for glass – Muscle is produced in the form of a spray that is easy to apply over the surface, and then just wipe it dry with a cloth.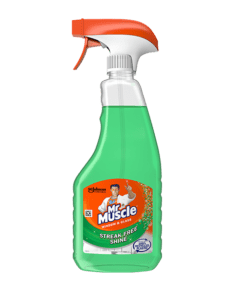 "Windex spray" – this spray allows you to quickly and delicately clean shower glass doors from plaque and other contaminants.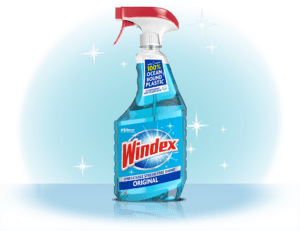 "The Bucko Soap Scum and Grime Cleaner" is a powerful cleaning agent that removes even stubborn dirt and limescale deposits.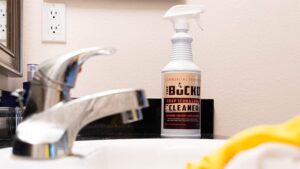 "Fritz Aquatics Aquarium Glass & Acrylic Cleaner" – a liquid designed to clean acrylic products; it is impregnated with a sponge, applied to glass and a tray after 40-60 minutes washed off.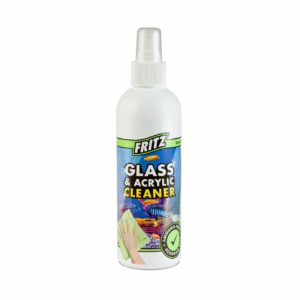 "Puracy's Natural Multi-Surface Cleaner" is a concentrated formulation popular with eco housewives; it is all-natural, pleasant smelling. Safe if you have pets or small children.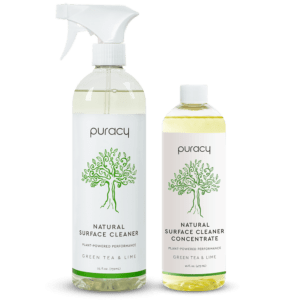 "Bagi Meteor" – with this composition, you can wash the glass of the shower cabin, as well as its other components – mirrors, plastic and acrylic walls, floors, etc.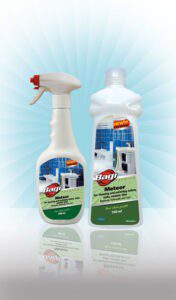 In addition to purchased cleaning supplies, there is always the opportunity to use improvised substances that are in almost any home.
Read also: How To Clean a Washing Machine
Cleaning glass shower doors with vinegar and dawn
Correctly selected substances help to quickly and safely rid the surface of the shower doors from plaque and drips, moreover, they are often not worse than chemicals.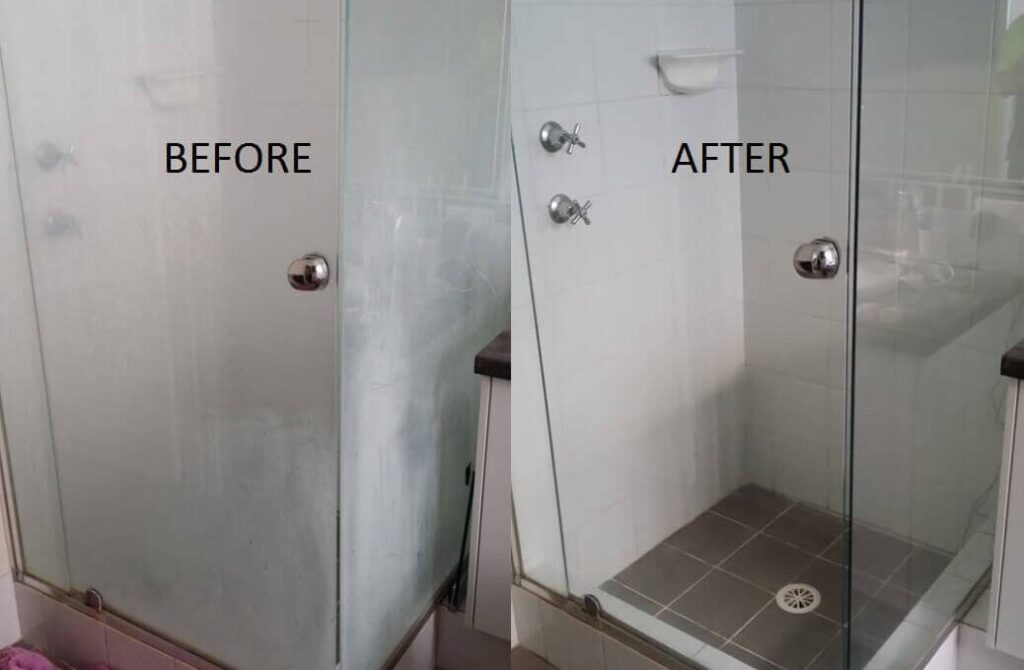 A mixture of vinegar and dawn
This is probably unpredictable but you can't imagine how effective this duo could be. From dozens of cleaners that we tried especially talking about shower glass, this one not only effective but also haven't any chemical smell (that is also harmful to your health)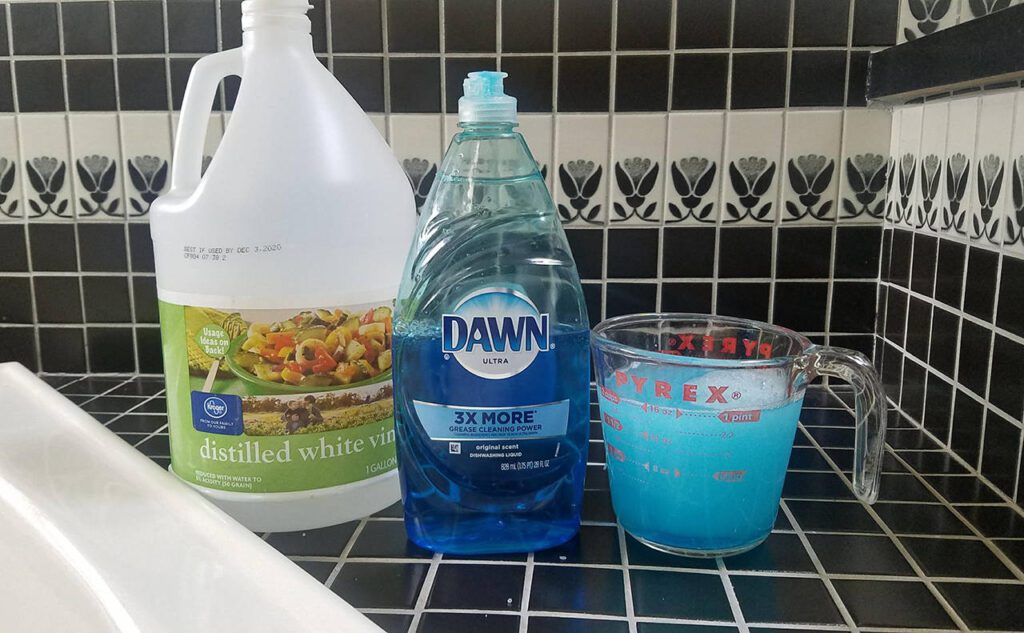 Use a 1:1 Vinegar and Dawn mix
Warm up the mixture in a microwave oven, you need around 1-2 minutes on medium power. This way it's easier to mix this solution
If you have an empty spray bottle (if not you can easily buy it) fill it with our mixture
Read also: Why You Should Divide Cleaning Into Daily, Weekly, and Monthly. +Printable Guide
How to clean glass shower doors with vinegar and dawn:
Using your spray bottle apply the mix on dry shower doors. It's important to keep them dry because it helps to clean doors effectively.
Leave the solution for 5 minutes and wipe with a wet cloth.
Now it's time to rinse doors with hot water. Use a showerhead and rinse the doors from top to bottom until they will shine.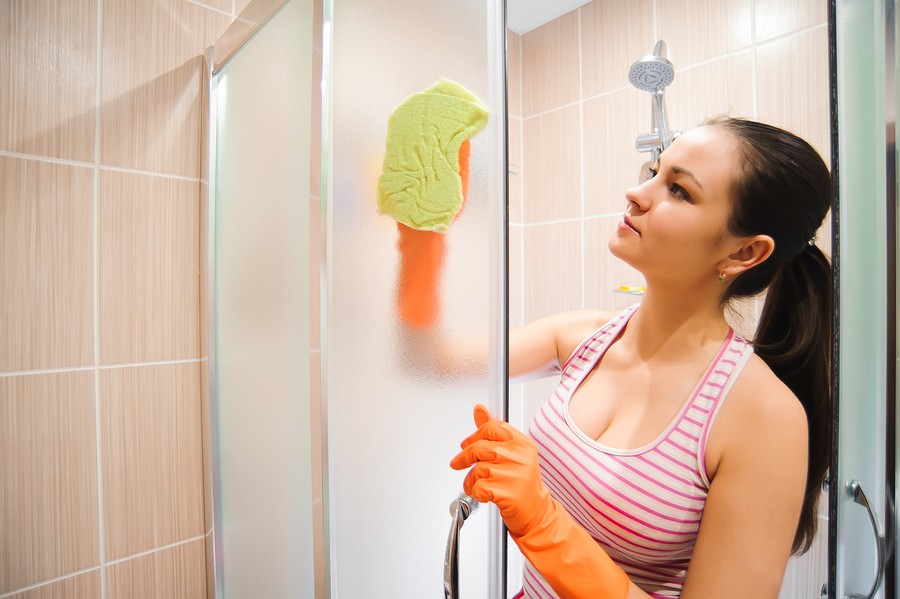 By the way, cleaning shower head with baking soda and vinegar is possible too!
Just apply a small portion of the mixture to the shower head, leave it for a few minutes, and rinse with any possible method.
Other homemade solutions
A mixture of citric acid and soda
Substances are taken in a 2: 1 ratio, mixed, and dissolved in a glass of water. The resulting product is sprayed onto a glass surface, left for a quarter of an hour and rinsed. It is important to take into account that only glass can be cleaned with such a composition, but it can harm plastic.
You can treat the walls of the cabin with vodka or alcohol diluted with water. Apply the liquid to a cloth and wipe all surfaces.
It is used to clean the glass of the shower cabin from small stubborn stains. The paste is squeezed out onto the contaminated area, rubbed, and left for half an hour. After wiping off the detergent, not a trace will remain.
Cleaning glass shower doors with vinegar and baking soda
It is good to remove mold and fungi. First, soda is applied to the previously moistened surface affected by pathogenic organisms and left for 15 minutes. After that, the glass is wiped with a napkin moistened with vinegar. You do not need to rinse off the liquid in 10 minutes with a dry cloth.
To keep the glass clean and shiny, you can rub it with this cosmetic product.
Read also: Holiday Cleaning Tips: Your Ultimate To-do List for Making your Home Holiday-ready
Cleaning fiberglass shower with oven cleaner
New and popular fiberglass showers are spreading every day, more and more homes tend to install this kind of shower. The benefit of it is in the glossy material that protects the fiberglass. The problem comes when that gel wears down. Soap and dirt build up on the shower wall or stall. Fiberglass shower requires a lot of cleaning with traditional cleaning products. But not many people know the easiest solution is to use a fume-free oven cleaner.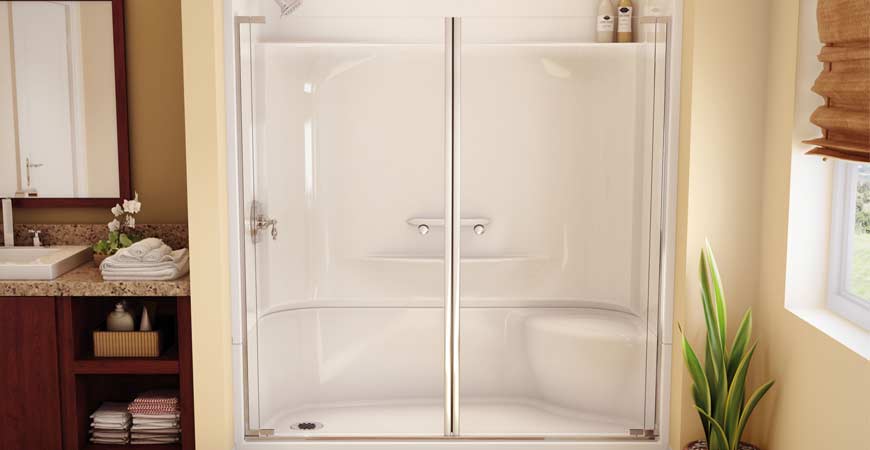 How to use oven cleaner for fiberglass shower:
Open the window or door in a bathroom for ventilation.
Spray the oven cleaner on the fiberglass walls or stall. Moving from top to bottom. Try not to spay on metal parts because the oven cleaner could be harmful. Leave it for an hour.
Clean the fiberglass shower with a wet cloth to remove the oven cleaner chemical from the surface.
Use a showerhead and warm water to rinse the shower's fiberglass elements and then wipe it with a dry cloth.
A shower cabin is a place that allows you to carry out daily hygiene procedures, to keep your body clean. Naturally, the device itself must comply with sanitary standards, which is easy to achieve if it is properly operated and promptly washed and cleaned.
About the author: Khrystyna is a cleaning professional with years of experience. She is a founder of White Glove Cleaner agency and her dream is to make New York a cozier place.